I take great pride in providing cutting edge chiropractic treatments. Many of my patients have already been to other Chiropractors and they often comment how the other Chiropractors did not have the equipment or the techniques I use. Below are some of the different services I offer.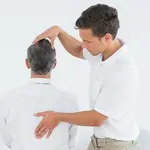 Chiropractic Care
I provide spinal correction utilizing gentle chiropractic techniques and when necessary other techniques that are a bit more aggressive. These combination of techniques and protocols I use are more effective than what most Chiropractors use. As a Doctor of Chiropractic of 33 years, I have extensive training and experience in not only spinal adjustments but treating any other joint of the body.
---

Corrective Exercises
I teach my patients simple yet effective exercises to help strengthen and correct their own unique problem. These exercises can be performed in the comfort of your own home and can improve the effectiveness of your spinal correction. In addition to skeletal misalignment, muscles and connective tissues can be out of place or strained by improper alignment and use. Specific exercises and stretches can help your body stay in balance and in health.
---

Lifestyle Advice
I often find it helpful to "coach" my patients on certain activities they should avoid or do differently to avoid aggravating their particular health challenge. My goal is to help every patient achieve a fulfilling and happy lifestyle full of the activities they enjoy most. Each patient is a whole person, and helping them reach true health and wellness is a collaborate effort between myself and my patients.TEAMWORK works BEST! I'll do my part and you do yours.

---

Nutritional Counseling
Many people don't know this but I have extensive training in Nutrition. I can provide specific recommendations on nutritional supplements and healthy food choices to enhance your return to optimal health. Do you know which supplements and vitamins are the BEST? Do you know what you should be taking? I can provide a structured nutritional program based on your individual needs.
---
Massage Therapy
Massage therapy is a natural conservative treatment approach that relieves musculoskeletal pain for many patients. I use many massage tools including my trained hands to provide specific massage and muscular therapy that is tailored to meet your condition and injury. In addition, there are 2 Roller Massage Wave Beds that I use on every patients during their visits. Everyone LOVES these beds. The benefits of massage therapy may include increasing blood circulation, reducing swelling, relaxing muscles, relieving muscle pain and spasms, and aid in recovery and range of motion.
---
Inversion Therapy

Gravity compresses the spine and discs for approximately 2/3 or 16 hours of each and every day. This is something that is overlooked by many specialists and so called back experts. Inversion therapy has been used for over 2000 years but has been a much kept secret until now. My new book on Inversion Therapy will soon be published and available on Amazon and elsewhere. I've been using Inversion on myself and on my patients successfully since I first opened my practice 33 years ago.